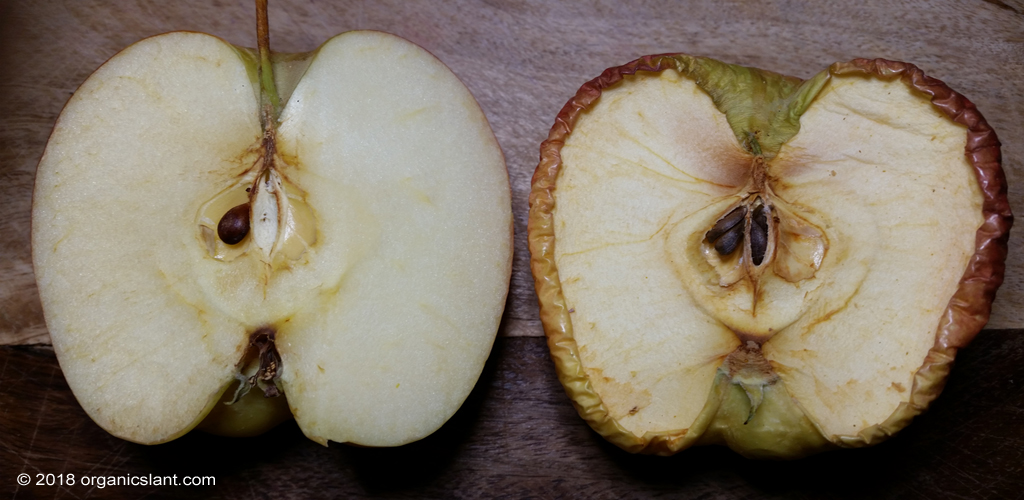 The first genetically modified apples to be sold in the U.S. will debut in select Midwestern stores. The fruit has been genetically modified such that its flesh won't turn brown when exposed to air.
A small amount of Arctic brand sliced and packaged Golden Delicious, produced by Okanagan Specialty Fruits of Summerland, B.C., will be in 10 stores, said Neal Carter, the company's founder and president. He would not identify the retailers, saying that's up to them.
"We're very optimistic with respect to this product because people love it at trade shows," Carter said. "It's a great product and the eating quality is excellent."
Carter reduced the enzyme polyphenol oxidase to prevent browning when apples are sliced, bitten or bruised. The apples match the industry norm of not browning for three weeks after slicing but without using flavor-altering, chemical additives that the rest of the fresh-sliced apple industry uses.
Golden Delicious, Granny Smith and Fuji varieties have been approved by the USDA and Canada. An Arctic Gala could be approved in 2018. Only Goldens and Granny Smiths have been planted long enough to produce fruit in commercial quantities by next fall.
Midwestern retailers were chosen for the first sales this winter because they seemed like a good fit demographically and in presence and size, Carter said.
Asked if Midwest consumers may be more accepting of genetically modified apples than those on the East or West coasts, Carter said consumer research didn't indicate that and that it wasn't a consideration.
"We don't want to skew our test marketing results by choosing stores that may be more friendly to genetic engineering," he said.
About 500, 40-pound boxes of sliced apples will be sold in grab-and-go pouch bags, he said. The company expects to offer 6,000 boxes of apple slices from the 2017 fall crop.
The Arctic apple has received some criticism because of the fact that its packaging doesn't explicitly state that the fruit has been genetically modified.
The fruit will not be explicitly identified as genetically modified.
A QR computer scan code on the packaging enables consumers to get information, including that the apple slices are genetically modified, but nothing directly on the packing identifies it. Okanagan Specialty Fruits will adhere to the new genetically engineered foods labeling act but it's not clear what that requires, Carter said.
"We are selling it under the Arctic brand and we've had a lot of press and attention, so I assume most people will know what it is," he said.
The company has reworked its logo, making a snowflake inside an apple outline more visible.
The first commercial test marketing will provide the company with consumer preferences on packaging and price and other information including purchase motivations. Survey data will be used to help the company decide its fall 2017 commercial launch strategy.
The company has orchards in British Columbia and 85,000 trees at an undisclosed location in Washington state. More than 300,000 trees will be planted this spring and 500,000 are being budded for planting in 2018. Those numbers may increase, as the company wants enough volume to compete nationally in the sliced apple business, Carter said.
The goal is 800 to 1,000 acres planted in the Northwest and nearly the same acreage in the eastern U.S. in addition to 600 to 800 acres in Canada by 2021, he has said. It will be a mix of company orchards and contract growers.
According to ARCTIC® APPLES Okanagan Specialty Fruits,  non-browning apples are more appealing and convenient, so more apples get eaten and fewer are wasted. Arctic® apples are tasty, healthy grab 'n go snacks you're sure to reach for, time and time again.
While supportive of the science, the Washington apple industry opposed approval of GMO apples because it believes negative public perception could damage apple sales. While expressing concerns about market disruption before USDA approval, the U.S. Apple Association is now neutral and stresses that all apples are safe, healthy and nutritious.