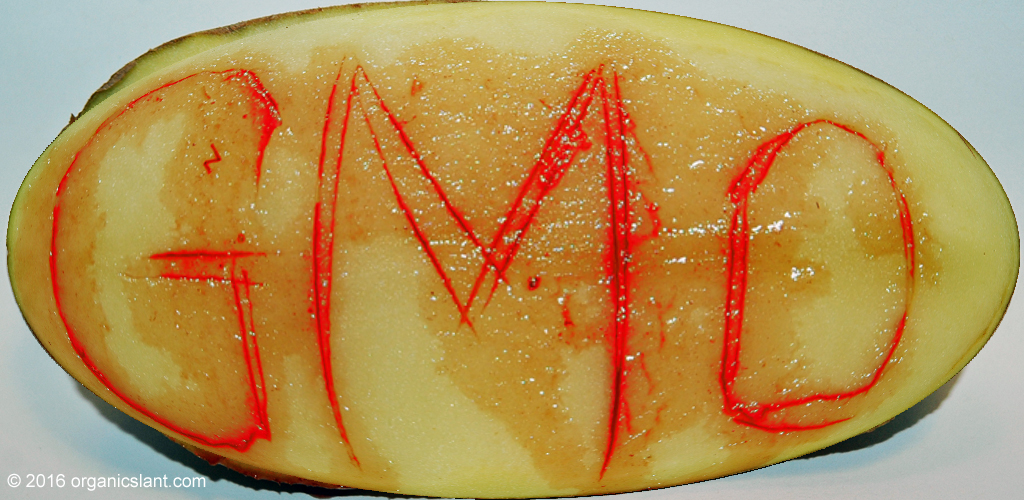 Canadian authorities have recently approved two genetically engineered products for both human consumption and animal feed use: on May 19, the AquAdvantage salmon developed by AquaBounty Technologies, and on March 18, several Innate potato varieties developed by Simplot.
Salmon The AquAdvantage salmon is the first genetically engineered animal approved for use in Canada. On May 19, 2016 Health Canada released its decision stating that the salmon was approved for sale in Canada as food. The federal department determined that the changes made to the salmon did not pose a greater risk to human health than salmon currently available on the Canadian market. In addition, Health Canada also concluded that the AquAdvantage salmon would have no impact on allergies, and that there are no differences in the nutritional value of this salmon compared to other farmed salmon available for consumption.
The science behind the salmon involved the introduction of a growth hormone gene from Chinook salmon into the genome of Atlantic salmon. This resulted in a salmon which grows faster and reaches market size quicker. In every other way, the AquAdvantage salmon is identical to other farmed salmon.
Also on May 19, the Canadian Food Inspection Agency (CFIA) released its decision approving the genetically engineered salmon for use as animal feed. The CFIA has determined that feed ingredients derived from the AquAdvantage salmon do not present livestock feed safety or nutrition concerns when compared to feeds derived from salmon currently permitted to be used as livestock feed in Canada.
As per Canada's policy with respect to novel foods or feed, the AquAdvantage salmon is subject to the same commercialization and import requirements as unmodified salmon, including requirements emerging from the Feeds Act and Regulations and the Food and Drugs Act and Regulations.
A newspaper article reports that on the same day that regulatory authorities announced the salmon decisions, the federal Agriculture Minister Lawrence MacAulay requested from the House of Commons Agriculture Committee to "examine the current framework around genetically modified animals and ensure our regulatory work with scientists".
According to Health Canada, the department assesses novel food events based on the guidelines established by Codex Alimentarius. The federal department also indicates that the approach taken in the safety assessment of genetically engineered foods is based upon scientific principles developed through expert international consultation over the last 20 years with agencies such as the World Health Organization (WHO), the Food and Agriculture Organization of the United Nations (FAO), and the Organization for Economic Co-operation and Development (OECD). Moreover, the approach taken by Canada seems to be currently applied by regulatory agencies around the world such as in the European Union, Australia, New Zealand, Japan, and the United States.