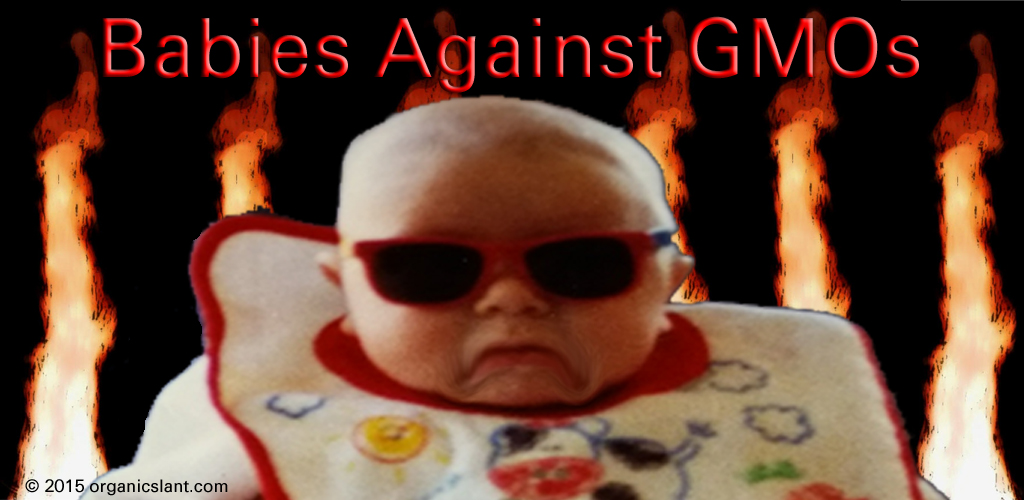 GMO Free USA today published the results of independent lab testing which documented that Gerber Lil' Crunchies Veggie Dip Baked Whole Grain Corn toddler snack contains high levels of herbicide tolerant, insecticide producing genetically engineered corn.
The public interest nonprofit recently launched a program to test popular food products for genetically engineered ingredients (GMOs), as well as testing for the herbicide glyphosate, heavily sprayed on GMO crops.
Babies are more vulnerable than adults because of their growing and still developing bodies. Babies consume more food per pound of body weight than adults, which exposes their tiny bodies to relatively higher levels of food borne toxins. In November 2012, The American Academy of Pediatrics (AAP) issued a policy statement recommending that children's exposure to pesticides be reduced. The AAP policy states:
"Children encounter pesticides daily and have unique susceptibilities to their potential toxicity. Epidemiologic evidence demonstrates associations between early life exposure to pesticides and pediatric cancers, decreased cognitive function, and behavioral problems."
In 2015, a statement signed by over 300 industry-independent scientific researchers and scholars, titled "No scientific consensus on GMO safety", was published in the peer reviewed journal Environmental Sciences Europe. These researchers found that there are as many research groups still raising serious concerns about the safety of a number of varieties of GM products (mainly corn and soybeans) as there are groups that cite GM crops as safe and nutritious as the respective conventional non-GM plant. The review also found that most studies concluding that GM foods were as safe and nutritious as those obtained by conventional breeding were 'performed by biotechnology companies or associates, which are also responsible for commercializing these GM plants'.
We sent a package of Gerber Graduates Lil' Crunchies Veggie Dip Baked Whole Grain Corn Snack to a certified lab to test for the presence of GMO material. The quantitative PCR test verified, by DNA analysis, that 100% of the corn in the Lil' Crunchies Veggie Dip was GMO. All of the corn has been genetically engineered to be herbicide tolerant (Roundup Ready) and the corn contained DNA sequences known to be present in Bt insecticide-producing GMO corn.
Herbicide tolerant GMO corn has been linked, in industry-independent peer reviewed studies, to kidney and liver damage in laboratory animals.
Bt (Bacillus thuringiensis) corn produces insecticidal toxins from inside every cell of the plant that can't be washed off. The corn is registered with and regulated by the EPA. The FDA, EPA, and USDA allowed the insecticidal GMO corn discovered in Lil' Crunchies Veggie Dip to be commercialized without ever conducting human safety tests.
An in-vitro study found that the insecticides in this corn may be toxic to human cells. Feeding studies conducted on mammals found adverse effects, including immune system disturbances, blood biochemistry disturbances, male reproductive organ damage, disturbances in the functioning of the digestive system, damage to mucosal barrier of the stomach, hyperlipidaemia and higher blood glucose levels and signs of organ toxicity. Industry claims that these insecticidal proteins are broken down in the digestive tract, yet a study found the proteins circulating in the blood of pregnant and non-pregnant women and the blood supply to fetuses. The research team conducting this study concluded, "Given the potential toxicity of these environmental pollutants and the fragility of the foetus, more studies are needed." To date there has been no follow up study.
TEST RESULTS: GLYPHOSATE
Glyphosate is the active chemical ingredient in Roundup herbicide as well as many other name brand glyphosate-based herbicides. These herbicides are the most widely used in the world and their use has increased exponentially with the introduction of GM crops. In response to agrichemical industry requests, the EPA has increased the allowable tolerance levels of glyphosate residues in crops without any scientific basis. And so, we sent a package of Gerber Graduates Veggie Dip Baked Whole Grain Corn Snack to a certified lab to test for the presence of glyphosate.
The glyphosate residue test was conducted by an accredited lab using the Specific LC/MS/MS testing method (the most sensitive test available) with a minimum detectable level of 0.02 ppm. No glyphosate residue was detected. Following is an explanation of why these results are inconclusive.
Several important factors must be considered when interpreting this test result:
First: We did not test a large enough sample to be able to conclude, based on statistics, that the test result is representative of the contents of every package of the toddler food.
Second: While the test used is the most sensitive test available, it was not sensitive enough to detect glyphosate at levels which have been found to cause endocrine disruption. A 2013 study found that glyphosate, at minute real-world environmental levels of exposure less than the minimum detection capability of the laboratory test, was able to effectively substitute for estrogen in stimulating growth of hormone-dependent human breast cancer cells at concentrations starting at 10-12M (169 parts per quadrillion) and peaking at 10-9M (169 parts per trillion). The growth stimulating effect of glyphosate (and the estrogen control) on the breast cancer cells decreased at concentrations higher than 169ppt demonstrating a "non-linear" or "non-monotonic" response, which is typical of chemicals that possess an endocrine (hormone) disruptive capability, where minute levels can actually cause their own distinct problems.
Third: The varieties of GMO corn documented by the genetic testing were 100% Roundup tolerant. Farmers normally purchase these varieties so they can control weeds by spraying the crop with glyphosate-based products.
Based on the results of the test performed and the above relevant factors, we are unable to draw any meaningful or reliable conclusions as to the presence, or lack thereof, of glyphosate in Gerber Lil' Crunchies Veggie Dip toddler snacks.
GMOs benefit the bottom line of the agrichemical industry, while the risks are entirely shouldered by consumers and our environment. Feeding vulnerable babies GM foods is irresponsible and recklessly puts an entire generation at risk. Through product testing, we bring transparency. With transparency comes accountability.
Call Gerber (800-962-1413) and demand that they remove GMOs from all of their products and get Non-GMO Project verified. Make a pledge to BOYCOTT GERBER and ask your family and friends to do the same.