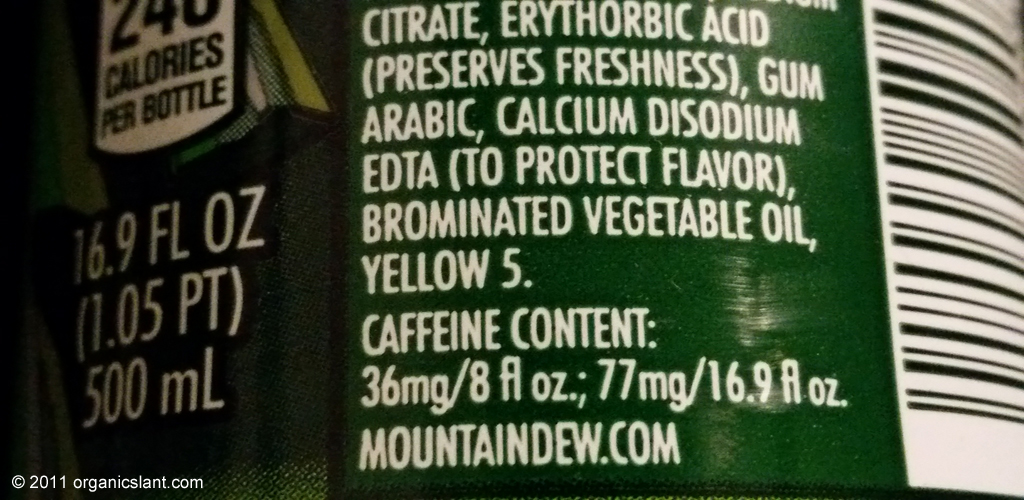 A substance patented as a flame retardant and banned as a food ingredient throughout Europe and in Japan is present in 10% of all soft drinks in the US. If you live in the United States, and drink citrus-flavored sodas such as Mountain Dew, you may be ingesting this substance that has health professionals up in arms.
A synthetic chemical known as brominated vegetable oil (BVO)-first patented by chemical companies as a flame retardant-is increasingly being identified as a threat to your health, but soda companies still have yet to remove BVO as an ingredient.
The December 12, 2011 Issue of Environmental Health News reviews the history of this toxic ingredient.
Added to about 10% of sodas in North America for decades, BVO has reportedly led to soda-drinkers experiencing skin lesions, memory loss, and nerve disorders. Interestingly, these are all the symptoms of overexposure to bromine. What is most concerning is the fact that studies have found that BVO can actually build up in human tissue, accumulating in large quantities over long periods of soda consumption.
Fruit-flavored flame retardant
The next time you grab a Mountain Dew, Squirt, Fanta Orange, Sunkist Pineapple, Gatorade Thirst Quencher Orange, Powerade Strawberry Lemonade or Fresca Original Citrus, take a look at the drink's ingredients. In Mountain Dew, brominated vegetable oil is listed next-to-last, between disodium EDTA and Yellow 5. These are just a sampling of drinks with BVO listed in their ingredients, which is required by the FDA. The most popular sodas-Coca-Cola and Pepsi-do not contain BVO.
Brominated vegetable oil, which is derived from soybean or corn, contains bromine atoms, which weigh down the citrus flavoring so it mixes with sugar water and other soda ingredients, or in the case of flame retardants, slows down chemical reactions that cause a fire. On the Nutrition Connection page of its website, the Coca-Cola Company, which manufactures Fanta, defines BVO's as "stabilizers to prevent the citrus flavoring oils floating to the surface in beverages."
FDA says safe?
Brominated vegetable oil was removed from the FDA's "Generally Recognized as Safe List" for flavor additives in 1970. The Flavor Extract Manufacturers' Association subsequently petitioned to get BVO re-approved, this time as a stabilizer rather than a flavor additive. Following the submission of indusrty-generated studies showing that BVO was harmless when present in soft drinks within "safe limit." The FDA in 1977 granted "interim approval" for use of the substance, limiting it to 15 parts per million. That interim has so far lasted 30 years. The Environmental Health News article quotes an FDA spokesperson as saying that re-examining the status of BVO "is not a public health priority for the agency at this time."
Recent Research
Both animal research and human studies of bromine have demonstrated its toxicity, finding links to lowered fertility, early puberty onset and impaired neurological development. Studies have also shown that bromine builds up in the heart, liver and fat tissue. The accumulation may also appear in breast milk. Because of this evidence, some health safety experts are concerned about bromine's use even as a flame retardant which can be present in many household items.
In the United States, 85 percent of kids drink a beverage containing sugar or artificial sweetener at least once per week, according to a recent study. Sodas are the largest source of calories for teenagers between the ages of 14 to 18, according to a National Cancer Institute study. For adults, soda, energy and sports drinks are the fourth largest source of calories, a federal study found.
Hold a bottle of Mountain Dew to a light. Brominated vegetable oil creates the cloudy look by keeping the fruity flavor mixed into the drink. Without an emulsifier such as BVO, the flavoring would float tothe surface. The FDA limits the use of BVO to 15 parts per million in fruit-flavored beverages.
This is not a complete list, however, and it is important to check the ingredient list. Sodas should be avoided regardless of BVO content, as BVO is not the only ingredient you need to be concerned about. Many sodas contain mercury-filled high-fructose corn syrup, or the carcinogenic artificial sweetener aspartame. These are one more poison in the cocktail of chemicals contained in soda.