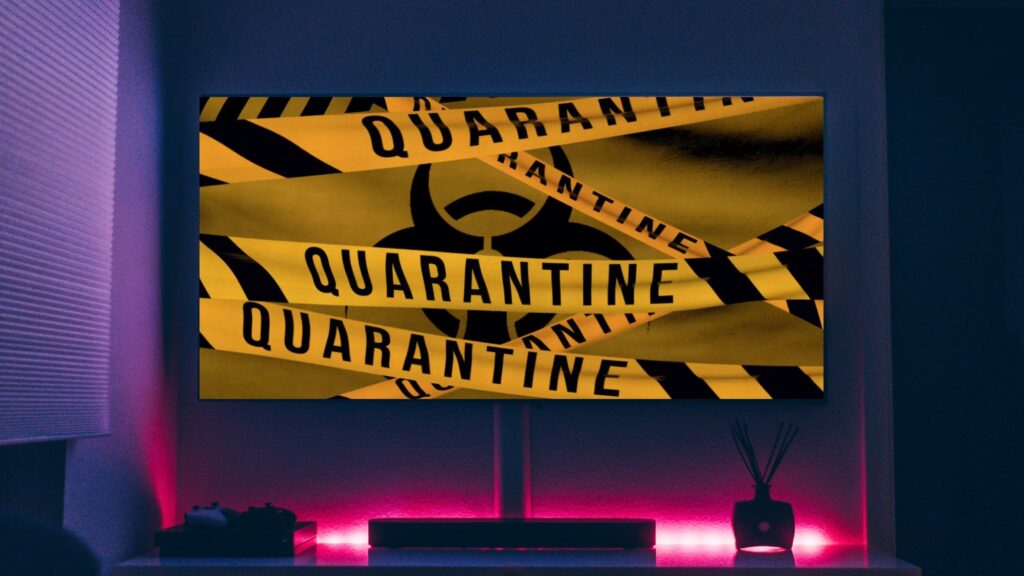 Disease-themed movies are at an all-time high amidst this coronavirus outbreak. But can it get any scarier in scary times.
Since COVID-19 has been declared a global pandemic, doesn't it feel like you've seen this scenario before.
Our very existence has been threatened by epidemics, war, famine, climate change, and dwindling resources. It seems like those catastrophes are the least of our worries now that we have widespread rife.
The End Is Near is a phrase frequently used in relation to potential apocalyptical events or the Biblical Apocalypse.
You may have watched some scary horror movies, but doesn't it feel like sometimes truth is stranger than fiction.
If you're looking to kill some time watching a movie while sheltering in place, hopefully this list will be long enough for you to get thru it.
If you're a fan about scary infections, movies about viruses and crazy medical pandemics, below are trailers for some of the best movies with disease outbreaks.
There are numerous good disease outbreak films to see, and many of them pretty historically accurate as well.
I don't recommend it, but if you want to be scared out of your mind during the quarantine, dim the lights, and grab the organic popcorn.
Contagion (2011)
When Beth Emhoff (Gwyneth Paltrow) returns to Minneapolis from business in Hong Kong, what she thought was jet lag takes a virulent turn. Two days later, she's dead in the ER and the doctors tell her shocked and grieving husband (Matt Damon) they have no idea why. Soon more cases are reported as the virus begins to spread. Researchers mobilize to break the code of this unique biological pathogen as it continues to mutate. Deputy Director Cheever (Laurence Fishburne) tries to allay the growing panic despite his own personal concerns, and must send a brave young doctor (Kate Winslet) into harm's way. As the death toll escalates and people struggle to protect themselves and their loved ones in a society breaking down, one activist blogger (Jude Law) claims the public isn't getting the truth about what's really going on, and sets off an epidemic of paranoia and fear as infectious as the virus itself.
Quarantine (2008)
A reporter and her cameraman are trapped in downtown Los Angeles where a mysterious deadly and highly contagious strain of rabies has broken out resulting in a quarantine of the building and all its residents.
Pandemic (2016)
After a devastating virus outbreak, the world is plunged into a state of chaos. Zombies roam the streets, while survivors fight to stay alive. With the human race under threat, an armed rescue team target the undead.
Outbreak (1995)
From Africa to America…it's traveling fast…destroying everything in its path. The Motaba virus inflicts a swift, horrible death, and only one man can stop it from spreading into a deadly worldwide outbreak in this riveting scientific thriller.
28 Days Later (2003)
A powerful virus is unleashed. Transmitted in a drop of blood and devastating within seconds, the virus locks those infected into a permanent state of murderous rage. Within 28 days the country is overwhelmed and a handful of survivors begin their attempts to salvage a future, little realizing that the deadly virus is not the only thing that threatens them.
Hot Zone (1989)
In 1989, Ebola landed on U.S. soil. After appearing in a research lab in D.C., a heroic U.S. Army scientist put her life on the line to prevent an outbreak. Inspired by true events and starring Julianna Margulies.
93 DAYS (2018)
THE FLU (2013)
A deadly virus is unleashed on an unsuspecting public. A human trafficker covered in oozing red rashes and up blood dies at a hospital. Within hours, the virus spreads all over the city and death goes viral as the body count rapidly rises. In the city, no one gets in, mo one gets out, and everything begins to spiral out of control!
The Cassandra Crossing (1977)
A thrilling disaster film featuring an all-star cast. When a potentially deadly virus is unleashed on a transcontinental train by terrorists, the infected passengers must find a way to survive, even as outside forces conspire against them.
INFECTION (2020)
Horror has a new homeland. INFECTION is the first zombie film made in Venezuela, and it sets the apocalyptic devastation against a backdrop of the very real sociopolitical turmoil ravaging the country. After an outbreak of a new strand of the rabies virus turns the population into crazed, bloodthirsty cannibals, a young doctor finds himself separated from his son, with the rapidly decaying city and sprawling countryside standing between them. Navigating his way through the plague-infested streets and marauder-filled backwoods roads, he must use every resource at his disposal to find his way back to his only child and hopefully unlock the secret to a cure for the deadly disease.
The Bay (2012)
This movie about a quaint little town that turns into a breeding ground for a waterborne organism that takes control of the minds and bodies of its hosts.
Carriers (2009)
This movie is about a group of friends trying to outrun a pandemic who realize on their journey that the evils of man are just as threatening as any virus.
The Last Days (2014)
Here's another novel contagion take: An affliction called The Panic has swept across humanity, causing people to become so severely agoraphobic that they actually die if they are forced outside. Our hero, Marc, has been trapped in an office building, but sets out to find his girlfriend, and has to do so without ever actually setting foot beyond shelter.
Containment (2015)
Neighbors in an apartment complex wake up to find they have been sealed inside by strangers in hazmat suits. Unable to identify the infected, the quarantined start turning against each other in an adrenaline-fuelled fight for survival.
Pontypool (2009)
While humanity is being brought to its knees by a rapidly spreading infection, we only experience the crisis through the perspective of an Ontario radio disc jockey who is receiving sporadic reports of the mayhem outside.
Dawn of the Dead (1978)
The contagion has gone beyond the farmhouse of the first film, and it's taking over the entire U.S. The story focuses on a group of survivors who make their way to a mall together, and it's one of the best movies ever made about the deleterious effects of an unstoppable pandemic in its early stages.
It Stains The Sands Red (2017)
This intimate contagion movie focuses almost entirely on one woman who is stranded in the Nevada desert right when a zombie infection starts to take hold. She has to wander into nothingness in the hopes of reaching safety, and along the way she is followed by one single shuffling zombie who becomes a sort of companion/reminder of her fragile mortality and the mistakes she has made in her life.
Rabid (1977)
A woman develops a strange growth under her arm after a surgery that she uses to feed on human blood. When she pierces people with her stinger, they become blood-hungry, zombie-like monsters, and the medical facility where she's being cared for soon becomes a hunting ground.
Train to Busan (2016)
A businessman and his daughter board a train to Busan as an epidemic begins ripping through South Korea, and while the moving train is semi-safe from the crumbling world outside, everything goes to hell when the infection reaches the passengers.
World War Z (2013)
A former United Nations investigator agrees to make his way through the infected landscape to find the source of the outbreak and hopefully a cure before everyone falls to the pandemic.
Mayhem (2017)
A corporate drone who gets canned the same day an epidemic called the "Red Eye virus" starts ruining society by turning the people who contract it into violent, hungry savages. At the same time, he meets a woman who was just screwed over by his company, and together they agree to kill their way to the top.
Little Monsters (2019)
The world's best kindergarten teacher sings Taylor Swift songs in between bouts of slaying the rabid undead and keeping alcoholic a sociopath in check so he doesn't scare her students, then say yes to Little Monsters.
Wyrmwood (2015)
Zombies invade the Australian Outback in this brain-splattered, Mad Max-meets-the-undead thrill ride. When an apocalyptic event turns everyone around him—including his wife and daughter—into marauding zombies, everyman mechanic Barry arms himself to the teeth, soups up his car, and hits the road in order to rescue his sister from a deranged, disco-dancing mad doctor. Bursting with high-octane car chases, crazy-cool homemade weaponry, and enough blood-and-guts gore to satisfy hardcore horror fans, WYRMWOOD takes the zombie flick to bone-crunchingly berserk new heights.
I Am Legend (2007)
Virologist Will Smith lives in a hollowed-out Manhattan and fights vampiric monsters called Darkseekers after a modified measles virus, that was meant to cure cancer, kills 90 percent of humanity. When he meets a pair of immune humans, he is given renewed hope that he can make a cure.
Cargo (2018)
A man and his infant daughter who are stranded in the middle of a zombie apocalypse in rural Australia. And when he becomes infected, the countdown begins for him to find her protection before he changes forever.
Here Alone (2017)
A young woman struggles to survive alone in the woods after a mysterious epidemic decimates society. Bleak, gritty, and teeming with fear, Here Alone tells a story of survival and emotional redemption in a post-apocalyptic landscape.
It Comes at Night (2017)
After a mysterious apocalypse leaves the world with few survivors, two families forced to share a home form an uneasy alliance in an attempt to keep the outside evil at bay.
The Last Man on Earth (1964)
Vincent Price is the only survivor after a plague wipes out the human race, and struggles with loneliness.
The Night Eats the World (2018)
This is a zombie movie, yes, but more than that it is about the monotony of survival and the crushing weight of loneliness when you're the only person in a dead world, which is exactly what one man in this movie experiences after he goes to a house party and wakes up to the apocalypse in an apartment building.
The Omega Man (1971)
An army colonel played by Charlton Heston is the only known survivor of a biowarfare catalyzed plague, and he spends his nights hunting plague-infected mutants throughout desolate Los Angeles. He's being hunted by the infected too, who blame science and technology for the downfall of man and see him as its embodiment. But since he saved himself with an experimental vaccine treatment, he might be able to cure others if he finds more healthy survivors.
Resident Evil (2002)
A special military unit fights a powerful, out-of-control supercomputer and hundreds of scientists who have mutated into flesh-eating creatures after a laboratory accident.
Endzeit (2019)
Two years after a zombiepocalypse has all but wiped out civilization, only two outposts of humanity remain. The one in Weimar has a zero-tolerance, shoot-on-site policy against the infected, and two women who have hit their limit with the brutality set out to reach the other safe haven in Jena, where the undead are captured and those inside are working toward a cure. But the two of them will have to travel through a dangerous no-man's-land to get there, and that means dealing with all the threats along the way.
12 Monkeys (1995)
Terry Gilliam directed this sci-fi film about a man who is sent back in time from the year 2035 to stop a pandemic that will wipe out most of the world's population and force the survivors to live underground, a disaster that will begin in 1996.
The Girl With All the Gifts (2017)
While the world is still largely overrun with zombies, called hungries, who were turned by a fungal infection, limited pockets of humanity still exist, and on a military base in England, scientists are studying children born of infected mothers — human-hungry hybrids that may contain the key to unlocking a cure in their blood. When the base is overrun, though, a group of survivors are flung out into the landscape and their survival will dictate who inherits the Earth.
Children of Men (2006)
The human race has become mysteriously sterile, and no babies have been born in 18 years. A dictatorship has arisen, but a group of revolutionaries discover they must protect the only pregnant woman in the world.
The Cured (2018)
What happens when the undead return to life? Elliot Page stars in this smart, scary, and provocative look at a society attempting to heal in the wake of a zombie plague.
Daybreakers (2010)
The year is 2019, and an unknown plague has transformed the world's population into blood-thirsty vampires. As humans and their blood become more scarce, vampires must search for new ways to satisfy their craving.
Doomsday (2018)
Doomsday
Scotland has been designated a quarantine area after an outbreak of the deadly Reaper virus prompted the government to force all the infected into containment and locked the gates behind them. Twenty-five years after the crisis, major Eden Sinclair (Rhona Mitra), who had to leave her mother in the hot zone as a child, is being sent back home to find a counteragent to the virus after infections start popping up in London. Survivors, however, have turned into maniacs and marauders, and Sinclair is going to have to kill her way through.
Maggie (2015)
In Maggie,a pandemic known as Necroambulism is just barely under government control, and society is limping its way back to life as the infected are put into quarantine. Arnold Schwarzenegger plays a man whose daughter (Abigail Breslin) is bit, and he decides to care for her at home over the weeks it will take her to turn full undead cannibal. It's a zombie movie, but it's also a family movie.
Virus (1980)
A military-engineered virus, released during a plane crash, kills the entire human population. The only survivors are scientists in Antarctica, who desperately try to find a cure and save what is left of the planet from further destruction.
A Perfect Sense (2012)
A virus is spreading. People around the world are being infected. First the grief, then smell is gone. As loss of one sense leads to another, people are stripped of the lives that they once knew. Chaos ensues whilst a young couple try to begin a relationship.
Black Death (2010)
In the time of the black plague, a grizzled band of soldiers armed with torture devices roam the England countryside on a mission to stamp out witchcraft and paganism in the name of the church.
Flesh + Blood (1985)
In Paul Verhoeven's ridiculously sleazy and disturbing 1985 medieval epic, Rutger Hauer leads a group of mercenaries and captives (among them Jennifer Jason Leigh) into a castle infected with bubonic plague. This grotesquely violent and gruesome adventure was supposed to be Dutch wunderkind Verhoeven's big splash into English-language filmmaking; audiences ran screaming, but it has since become a big cult item.
The Navigator: A Medieval Odyssey (1988)
Mysterious dreamlike visions send a boy and band of medieval men on a strange journey, to save their town from the black death.
The Painted Veil (2006)
A love story set in the 1920s that tells the story of a young English couple, Walter, a middle class doctor and Kitty, an upper-class woman, who get married for the wrong reasons and relocate to Shanghai, where she falls in love with someone else. When he uncovers her infidelity, in an act of vengeance, he accepts a job in a remote village in China ravaged by a deadly epidemic, and takes her along. Their journey brings meaning to their relationship and gives them purpose in one of the most remote and beautiful places on earth.
Season of the Witch (2011)
Diabolical forces await a disillusioned knight and his friend when they are tasked with transporting an accused witch to a desolate abbey.
The Seventh Seal (1988)
Six signs of the Apocalypse have come to pass. Now only one woman can stop THE SEVENTH SIGN. Demi Moore stars as a young woman who discovers that she and her unborn child play a terrifying part in the chain of events destined to end the world. THE SEVENTH SIGN takes you on an ominous, unforgettable odyssey to the edge of life and death.
The Masque of the Red Death (1964)
While the plague rages outside in the small Italian province, the Satan-worshipping prince stays confined to the sanctuary of his castle. The "Red Death" enters the dance and the guests succumb to the plague…one by one.
The Andromeda Strain (1971)
A government satellite crashes outside a small town in New Mexico – and within minutes, every inhabitant of the town is dead, except for a crying baby and an elderly derelict. The satellite and the two survivors are sent to Wildfire, a top-secret underground laboratory equipped with a nuclear self-destruct mechanism to prevent the spread of infection in case of an outbreak. Realizing that the satellite brought back a lethal organism from another world, a team of government scientists race against the clock to understand the extraterrestrial virus – codenamed "Andromeda" – before it can wipe out all life on the planet.
Invasion of the Body Snatchers (1978)
In San Francisco, a group of people discover the human race is being replaced one by one, with clones devoid of emotion.
Shaun of the Dead (2004)
A bumbling electronics salesman attempts to lead his family and friends to the safety of a local pub after London is overrun by zombies.
Anna and the Apocalypse (2018)
A zombie apocalypse threatens the sleepy town of Little Haven – at Christmas – forcing Anna and her friends to fight, slash and sing their way to survival, facing the undead in a desperate race to reach their loved ones.
Planet Terror (2007)
After an experimental bio-weapon is released, turning thousands into zombie-like creatures, it's up to a rag-tag group of survivors to stop the infected and those behind its release.
Night of the Comet (1984)
A huge comet passes near the earth, vaporizing nearly the whole planet. Only a few teenagers, who were inside a steel movie projection booth, survive–all those outside were turned to dust. But a few partially exposed people are now hideous, blood-thirsty zombies–and they begin a deadly hunt for the last remaining humans.
Cabin Fever (2016)
A flesh-eating virus makes a meal of 5 teens on spring break in a remote wood cabin in this update of Eli Roth's classic gorefest, with all-new characters and all-new kills.
Blindness (2008)
Victims of a mysterious epidemic of blindness sweeping through a city soon face an even greater affliction: the chaotic breakdown of social order.
The Crazies (2010)
The sheriff of a small Iowa town where residents are being transformed into murderous psychos after a nearby plane crash unleashes a toxic virus, and the few uninfected who remain try to escape to safety.
REC (2007)
An apartment building that becomes an incubator for a viral infection that turns people into erratic homicidal monsters.
Mom And Dad (2018)
A teenage girl and her younger brother must survive a wild 24 hours during which a mass hysteria of unknown origin causes parents to turn violently on their own kids.
Arrowsmith (1931)
An ambitious research scientist who becomes a country doctor to be with the girl of his dreams, then makes a medical breakthrough that eventually leads him to the West Indies to combat a devastating outbreak of bubonic plague.
Zombieland (2009)
Nerdy college student Columbus (Jesse Eisenberg) has survived the plague that has turned mankind into flesh-devouring zombies because he's scared of just about everything. Gun-toting, Twinkie-loving Tallahassee (Woody Harrelson) has no fears. Together, they are about to stare down their most horrifying challenge yet: each other's company.
NEKROTRONIC (2019)
A group of demon hunters known as Nekromancers battle evil forces that use the internet to demonically possess the masses.