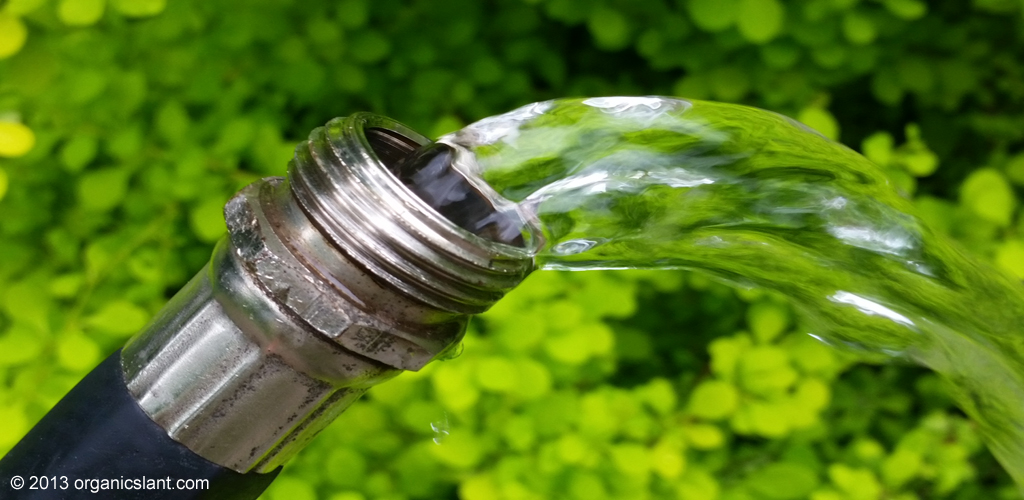 It is not safe to drink from a garden hose. Many garden hoses are made with polyvinyl chloride (PVC) that often uses lead as a stabilizer. The brass fitting on the ends of the hose are also likely to contain lead.  And water left standing in the hose can absorb worrisome amounts of lead and turn your first gulp into a health hazard.
Some hoses have warning labels that they are not to be used for drinking. Others are labeled "drinking water safe."  Still others are not labeled at all. Unless you know for sure that your hose is drinking water safe, don't drink from it.  Even if it is labeled safe for drinking, flush it out first before sipping. It's also a good idea to wash your hands after handling a hose since lead can transfer to your hands and then from your hands to your mouth when eating. Even low levels of lead may cause health problems.
High amounts of lead, phthalates and the toxic chemical BPA were all found in the water of a new hose after sitting outside in the sun for just a few days, according to researchers at the Ann Arbor-based Ecology Center, who just completed a large study of toxic chemicals in gardening products.
Nearly 200 hoses, gloves, kneeling pads and tools were tested for lead, cadmium, bromine (associated with brominated flame retardants), chlorine (indicating the presence of polyvinyl chloride, or PVC), phthalates and bisphenol A (BPA). Such chemicals have been linked to birth defects, impaired learning, liver toxicity, premature births and early puberty in laboratory animals, among other serious health problems.
Results were released May 3 at HealthyStuff.org.
"Even if you are an organic gardener, doing everything you can to avoid pesticides and fertilizers, you still may be introducing hazardous substances into your soil by using these products," said Jeff Gearhart, research director at the Ecology Center. "The good news is that healthier choices are out there. Polyurethane or natural rubber water hoses, and non-PVC tools and work gloves, are all better choices."
Highlights of findings:
HealthyStuff.org screened 179 common garden products, including garden hoses (90); garden gloves (53); kneeling pads (13) and garden tools (23).
Two-thirds (70.4 percent) of these products had chemical levels of "high concern."
30 percent of all products contained over 100 ppm lead in one or more component. 100 ppm is the Consumer Product Safety Commission Standard (CPSC) for lead in children' products.
All of the garden hoses sampled for phthalates contained four phthalate plasticizers which are currently banned in children's products.
21 new garden hoses were purchased from Lowes, Home Depot, Walmart, Target and Kmart. One-third (8 of 21) of the garden hoses tested contained high levels of one or more chemicals of concern. These hoses are widely available and top selling brands.
Of the 21 garden hoses tested, 67% (14 of 21) were polyvinyl chloride (PVC) and 4.5% contained brominated flame retardants.
What was found in the water:
Water sampled from one hose contained 0.280 mg/l (ppm) lead. This is 18-times higher than the federal drinking water standard of 0.015 mg/l.
BPA levels of 2.3 ppm was found in the hose water. This level is 20-times higher than the 0.100 ppm safe drinking water level used by NSF to verify that consumers are not being exposed to levels of a chemical that exceed regulated levels.
The phthalate DEHP was found at 0.025 ppm in the hose water. This level is 4-times higher than federal drinking water standards. EPA and FDA regulate DEHP in water at 0.006 mg/l (ppm).
What you can do:
Read the labels: Avoid hoses with a California Prop 65 warning that says "this product contains a chemical known to the State of California to cause cancer and birth defects and other reproductive harm."
Buy hoses that are "drinking water safe" and "lead-free."
Let it run: Always let your hose run for a few seconds before using, since the water that's been sitting in the hose will have the highest levels of chemicals.
Avoid the sun: Store your hose in the shade. The heat from the sun can increase the leaching of chemicals from the PVC into the water.
Don't drink water from a hose: Unless you know for sure that your hose is drinking water safe, don't drink from it. Even low levels of lead may cause health problems.
Buy a PVC-free hose: Polyurethane or natural rubber hoses are better choices. Visit HealthyStuff.org for sample products.
"Gardening products, including water hoses, are completely unregulated and often fail to meet drinking water standards that apply to other products, yet again demonstrating the complete failure of our federal chemicals regulatory system," said Gearhart. "Our children will never be safe until we reform our laws to ensure products are safe before they arrive on store shelves."