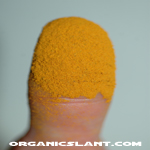 (Organic Slant) A recent study published in Phytotherapy Research says that not only is turmeric effective at treating depression, it may even be more effective than some of the most common anti-depressant drugs currently on the market.
Curcumin, an active ingredient of Curcuma longa Linn (Zingiberaceae), has shown potential antidepressant-like activity.
While previous studies have indicated the effectiveness of turmeric (curcumin) in treating serious depression, this study was the first randomized controlled clinical trial of its kind.
Researchers with the Department of Pharmacology of Government Medical College in Bhavnagar, Gujarat, India compared the effects of turmeric and Prozac (fluoxetine), both used together and individually, in 60 patients diagnosed with major depressive disorder (MDD).
While reading the researchers conclusions indicates one treatment (turmeric) is equally effective as Prozac, it doesn't account for the negative effects of Prozac, which boost turmeric's value considerably. Prozac is known to cause "suicidal ideation or other psychotic disorders," frightening side effects that are clearly absent in turmeric use.