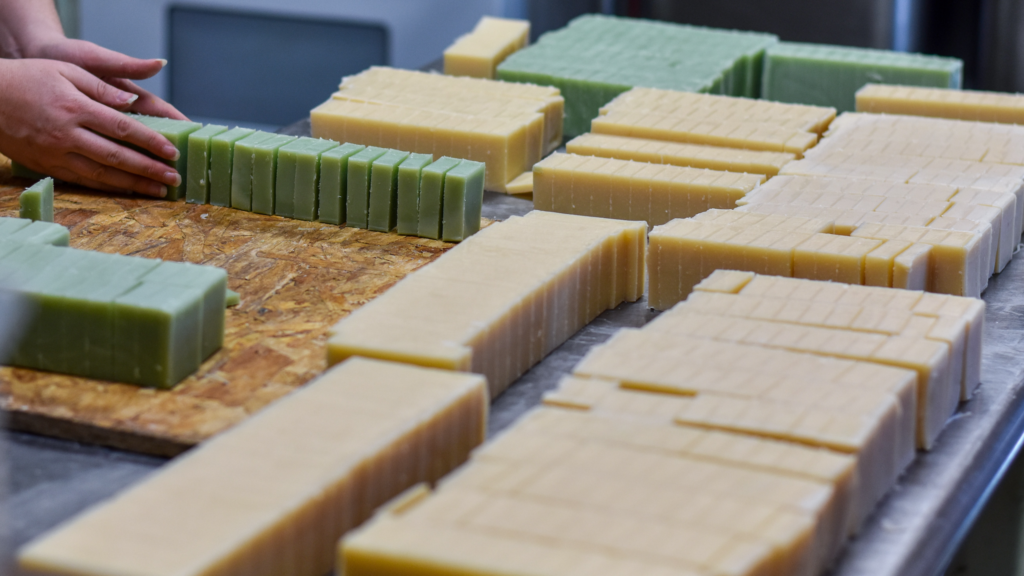 Chagrin Valley Soap & Salve manufactures all of their own products including soaps, shampoo bars, salves, bath, body, skin and hair care products. Inspired by genuine love and respect of all things natural, they use pure essential oils, organic botanicals, and sustainable plant oils and butters to formulate recipes that will nourish your skin and be kind to our planet.
Chagrin Valley is not just another skin care company. They are on a mission to make their customers healthier and our Earth a little greener. They are committed to healthy skin, healthy people and a healthy planet.
The Formulas We Create Are Unique: The recipes are designed in house using knowledge from research and ingredients from nature. They use certified organic ingredients–herbs and flowers, vegetables and fruits, sustainable oils and butters and pure essential oils to create products that will nourish your skin and be kind to our planet.
Quality: Hand blend all of their own products in small batches to ensure freshness, consistency, and perfection. Think of it as pure nutrition for your skin and hair!
All Natural: It's all about ingredients! The products have always, and will always, contain nothing but natural ingredients. There is nothing artificial, nothing synthetic, no GMO's, just wholesome natural ingredients you can trust.
Organic: We are USDA Certified Organic Company. They work hard to obtain organic certification each and every year. Organic certification is the only way you can be sure a company's product truly complies with organic standards. It is a constant reminder of their commitment to the customer and the planet.

Environmental Conscience: It is their practice to use raw materials that are sourced in an environmentally and ethically responsible manner. We are Leaping Bunny Certified–Cruelty-Free. The palm oil is certified sustainable by the Rainforest Alliance and they buy Fair Trade whenever possible. The products are biodegradable and minimally packaged with recycled and recyclable materials. The packaging is over 99% plastic free. The natural ingredients will not add synthetic chemicals into our ecosystems.
Knowledge: The products, developed by Ida, a registered nurse with a Master's degree in biology and a minor in chemistry, are safe and effective. The goal is simple–to use the power of nature to cleanse, soothe, heal and protect your skin.