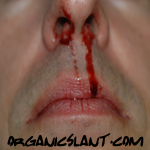 (Organic Slant) There are thousands of people in Japan reporting to be suffering massive and recurring nosebleeds in recent days.
An unusual number of Japanese have suddenly begun suffering nosebleeds that some reports indicate they are tied to radiation poisoning from the crippled nuclear plants at Fukushima.
The reports are based on a series of tweets, allegedly from Japanese citizens who report the nosebleeds, along with photos of blood-soaked rags and bandages. Many of the reports are flowing through Facebook.
Takahiro Katsumi has been following an unusual trend on twitter in Japan. People began posting complaints of severe nosebleeds, then the complaints grew and grew with more people every day citing the problem. Many of these also included complaints of nausea, fatigue and other symptoms similar to the run of complaints found among the population in Japan right after the 2011 triple meltdowns. Most of the nosebleeds have been severe with many unable to stop the problem.
Over 3,000 ppl mostly of age under 30 are suffering from recurring massive nosebleeding in Japan
Source: Takahiro Katsumi (Foreign Policy Aide to Senator Tadashi Inuzuka, a member of the House of Councillors of the Japanese National Diet –Source)
Date: Updated Oct. 1, 2013
h/t Anonymous tips
FACT: Over 5,000 ppl were reported of tweeting "nosebleed"(hanaji) over the past two-day period from 9/22-9/23 https://togetter.com/li/567445
FACT: Over 3,000 ppl were reported of tweeting "can't stop my nosebleed" (hanaji ga tomaranai) during the week of 9/20-9/30 (as of 12am 10/01/2013 JST)https://togetter.com/li/568710
FACT: Over 2,500 ppl were reported of tweeting "I'm nosebleeding" (hanaji ga deta) during the short days of 9/28-9/30 (as of 12 am 10/01/2013 JST)https://togetter.com/li/570016
Details graphs, etc Link
The site goes on to note that many of those posting or tweeting about the nosebleeds don't appear to be taking them seriously. "Because nosebleeding in Japan is often associated with having improper (often sexual) thoughts and fantasies, there is an inherent cultural barrier in Japan that restrain them from coming out in the open to admit it as a serious matter or even just letting the public know about it," says the Facebook post.
There has been some speculation that the recent typhoon that crossed Japan on Sept 16th could have disturbed contamination in the soil and environment causing some re-exposure.
Ian Thomas Ash's documentary A2-B-C, which showed at the International Raindance Film Festivals is a significant body of work in this regard. This is shortened version of the 70min documentary. SYNOPSIS: Many children in Fukushima were never evacuated after the nuclear meltdown on March 11, 2011. Now the number of Fukushima children found to have thyroid cysts and nodules is increasing. What will this mean for their future?
Fairewinds Chief Engineer Arnie Gundersen, Oct. 1, 2013 (At 5:10 in): The problem right now is that Japanese researchers are afraid to tell the truth. We've got doctors calling us at Fairewinds saying, "We know our patients have radiation illness and the hospital isn't allowing us to tell the patients that." […] So the last piece of this is transparency. And frankly if you leave it to the Japanese government we're never going to get transparency. We've got get the people involved with an oversight panel made up of civilians who have nothing to gain, or nothing to lose from telling the truth.
Deformities
Evacuee: Fukushima hospital worker says 5 out of 7 babies were born with birth defect, Down's syndrome or lost by miscarriage
enenewscom/evacuee-fukushima-h­ospital-worker-says-5-out-of-7­-babies-were-born-with-birth-d­efect-downs-syndrome-or-lost-b­y-miscarriage link
Gundersen: We're getting reports from Japan of deformed children Japan has tested 133,000 children in Fukushima and found abnormal thyroid cysts and nodules in 42% of them. Three cases of cancer were confirmed and another seven were suspected cases "with an 80% chance of malignancy". The issue is bound to escalate further.
Severely malformed babies have been killed in Japan. youtube/r2dghS1otAw
Spiraling out of control
Fukushima Triple China Syndrome Meltdown Stats youtube/qBViT6Dpj7Y
Established news agencies report that radiation-related problems continue to plague the area surrounding the six-reactor plant:
Weekly Asahi: 70% of children tested in Kanto (Includes Tokyo) have radioactive cesium in their urine -Journalist #Fukushima
https://enenews.com/weekly-asahi-70-of…
Thousands in Japan reported to be suffering massive and recurring nosebleeds in recent days — Gundersen: Japan doctors tell us, "We know our patients have radiation illness" but forced to keep it secret (VIDEO)
https://enenews.com/thousands-in-japan…
Latest Headlines:
October 1st, 2013
WSJ: Huge spike in dogs biting humans in Fukushima town; Some attacked without aggression, 70% to upper body — Study: May be associated with nuclear disaster — Gundersen: Research on animal defects hidden from public (VIDEO) link
October 1st, 2013
Reuters: Strengthening storm headed near Fukushima — Typhoon Warning Center: Well-defined low-level circulation center… Deep convection is building (PHOTO) link
October 1st, 2013
'Radioactive Spill' at Fukushima: Tons seeping into ground; 'Widespread structural problems' indicated with tanks — Nitrogen injection for preventing explosions at reactors temporarily halted link
September 30th, 2013
Kaku: Gov't will have to send military to Fukushima plant — Japan Professors: It's a "slow-motion nuclear war"; World's militaries are only ones able to cope with such disaster (AUDIO) link
September 30th, 2013
AP: Fukushima unleashed radiation that will affect region's health for decades — Book: Effects seem to be rapidly increasing link
September 30th, 2013
Official blasts Japan Gov't over Fukushima: Such immoral people — Let radioactive substances flow out freely and said nothing while contaminating ocean — It's just absurd — Now they're trying to cover up the whole thinglink
September 30th, 2013
Media finally gets it right? Bloomberg: "Before Fukushima, Chernobyl was ranked the world's worst nuclear accident". link
September 29th, 2013
Fukushima Cover-Up: Extraordinary amount of kids have thyroid cancer — Officials say NOT caused by Fukushima since Chernobyl's cancers took 4-5 yrs to appear — Yet data shows it started soon after '86 meltdown… number of cases still rising 25 years later link
September 29th, 2013
Nuclear Expert in California: They're dumping huge amounts of Fukushima contamination in Pacific; "We could have large numbers of cancer" from eating fish — Newspaper: Japan Prime Minister 'put to shame' link
September 29th, 2013
Former Top U.S. Nuclear Official: Fukushima is "ultimately unprecedented" — It's "legacy of contamination is very different from any other radiological disaster" in history (VIDEO) link
September 29th, 2013
Kaku: Human civilization may destroy itself, "I mean, look at Fukushima" — Liquefication of 3 nuclear reactor cores… First time any core ever liquefied — It's still out of control, 3/11 disaster could start all over again (VIDEO) link
September 28th, 2013
TV: Mysterious black substance flew all the way to Tokyo area from Fukushima ten days after first explosion — Since then, they've been shrouded in horror — "Everyone here looks somewhat damaged by the radiation" (VIDEO) link
September 28th, 2013
FDA Import Alert: U.S. bans agricultural and fishery products from 14 prefectures in Japan due to Fukushima radionuclides — Top Newspaper: Concern over contamination is spreading to most countries around Pacificlink
September 28th, 2013
Textbook: Fukushima disaster contaminated the territory of Japan, Sea of Japan, Korea — Up to 8 orders of magnitude above global fallout background off prefecture's coast link
September 27th, 2013
Gundersen: 200 brand new fuel bundles in Fukushima Unit 4 pool are most at risk to start nuclear chain reaction — If too close together during removal, there will be a criticality — "They have to be very, very cautious" (AUDIO) link
September 27th, 2013
Fukushima Mother's Plea to U.N.: Children and adults are suffering tremendously — Sharp increase in bloody urine, bone pain, more — Doctor says many have similar symptoms with unknown causes — Family's health deteriorated all at once, recovered soon after moving link
September 27th, 2013
Censored Japan gov't scientist reveals much more radioactive material is leaking into Pacific from Fukushima than claimed by Tepco — It's getting released outside of port's barrier, directly into ocean — Officials refused to allow publication of study on sea contamination (PHOTO) link
September 27th, 2013
Japan Times: Now 400 tons a day of toxic water is estimated to be entering Pacific from Fukushima plant; 100 more tons per day than what Tepco had claimed — Asahi: Leakage of radioactive material "becoming serious"link
What to do
"Dr. Shinichiro Akizuki, director of Saint Francis Hospital in Nagasaki during the second World War spent years treating atomic bomb victims just a few miles from ground zero, neither he nor his staff suffered from the usual effects of radiation.They drank miso soup every day. Researchers discovered that miso contains dipilocolonic acid, an alkaloid that chelates heavy metals, such as radioactive strontium, and discharges them from the body. However, the most convincing evidence demonstrating the protection miso offers to those exposed to radiation was published in Japan in 1989". Check out the rest of the article: https://www.mitoku.com/products…
What you can do
For Japanese Facebook and Twitter users, Takahiro Katsumi has been asking for assistance to help spread the survey to as much of the affected people as possible using the list shown above. For users overseas, He would like to ask the following: Help me create a database out of this massive list; Help him find reliable statistics on nosebleeding in general vis-a-vis abnormal nosebleeding; and Help him devise a way to bring in the international civic community's attention on the matter.
Read all the reports about the health problems being found on social media here:
https://www.facebook.com/GivingTreeIntnl?fref=ts