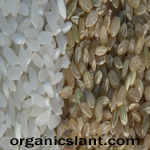 (Organic Slant) Much has been said about the nutritiousness of brown rice, but when it comes to radiation, it is the bran layer beneath the husk that absorbs and accumulates cesium from soil.
That means white, polished rice, which has no bran layer, is a safer option — though it does contain fewer vitamins, minerals and fiber than brown rice. If you rinse white rice well before cooking, you can also remove radiation-emitting residue on the grain.
Kunikazu Noguchi, lecturer at Nihon University, says that radiation, though invisible and odorless, can be treated and cleaned up like a stain, noting that by rinsing the food well before cooking, preferably with hot water, and/or boiling or stewing it, a large portion of radioactive elements can be removed.
The Nation Research Institute of Brewing studied the transfer of cesium and potassium from rice to sake. Using rice grains contaminated with radioactive cesium ((134)Cs and (137)Cs) that was released by the Fukushima Daiichi Nuclear Power Plant Accident in March of 2011, the researchers investigated the behaviors of the radioactive cesium and potassium (total K and (40)K) during sake brewing. Cesium is a congener of K, and yeast cells have the ability to take up Cs using known K transporters.
During rice polishing, the concentrations of radioactive cesium in the polished rice grains decrease until a milling ratio (polished rice weight/brown rice weight) of 70% was reached. No significant changes were observed below this milling ratio.
Experts say that cesium levels will decline quickly as the rice is polished. About 70 percent of the cesium ends up in the straw, with another 10 percent ending up in the bran and 7 percent in the chaff and the rice itself.
The transfer coefficient (TF) from soil to rice plants of 134Cs and 137Cs in the form of radioactive deposition from the Fukushima Dai-ichi Nuclear Power Plant (FDNPP) accident in March 2011 was investigated in three rice paddy fields in Minami-Soma City. Rice crops were planted in the following May and harvested at the end of September.
The rice ears, straws, roots, chaff, brown rice, polished rice, rice bran and soil samples have been measured by Ge-detector. ► Transfer coefficient of chaff, rice bran, brown rice, and polished rice is estimated as 0.049, ranging from 0.10 to 0.16, 0.013 to 0.017, and 0.005 to 0.013, respectively.
Rice Crisis
The entire part of the Japanese nation that produces food is contaminated.
"…Farmers in the city of Tamura, Fukushima Prefecture, have begun planting rice in a district once designated a no-go zone because of radioactive fallout ejected by the disaster-hit Fukushima No. 1 power plant.
It is the first time since the March 2011 core meltdowns that rice intended for sale has been planted in any former hot zone within 20 km of the power plant. Saturday's rice planting was carried out in Tamura's Miyakojimachi district, about 15 km [9.4 miles] from the plant. Residents can enter without permission during the daytime but aren't allowed to stay overnight."
"..Rice contaminated with radioactive cesium has been detected in Miyagi Prefecture. It is the first time that contaminated rice has been discovered outside of Fukushima Prefecture. The rice, which at 240 Bq/kg exceeded government-mandated limits by almost two-and-a-half times, was not sold to the public. Prefectural officials have requested that nearby farmers refrain from shipping rice and other produce until further testing can be conducted…"
"Let them eat rice"
According to Rana Bahadur Budhathoki, head of NFC [Nepal Food Corporation] in Jumla, Japanese rice is not selling well since the last two months. According to the locals, the main cause of aversion toward the new rice received as donation from Japan is that it doesn't taste good and it allegedly caused diarrhea in some cases.
A whopping 460,000 kg of Japan-donated rice is languishing in the warehouse of government-run Nepal Food Corp. in a district in far-western Nepal because the grain has failed to find takers. Even when asked not to send rice they did.
Dilution is the solution
The contaminated rice will be made "safe" by diluting it with rice grown elsewhere.
Since contamination is measured by bq/kg, that would actually work. If rice contained 100bq/kg of cesium (which is already a safe amount) and it was mixed 50/50 with rice containing 0 bq/kg, the resulting rice would be 50 bq/kg.
Now, since the governments and TEPCO [Tokyo Electric Power Company] have lied constantly since the Construction of the Fukushima Plant, what in the world makes anybody think that their telling the complete truth now? They keep lowering the bar on safety.
The problem is, we do not KNOW if U.S. sold rice is from Japan or not, thanks to Hillary. Also thanks to Ms. Clinton, General Mills can buy all the rice flour Japan sells, no detectors needed. So if you don't want radioactive Rice Chex then choose alternatives.
Choose another grain choose QUINOA.