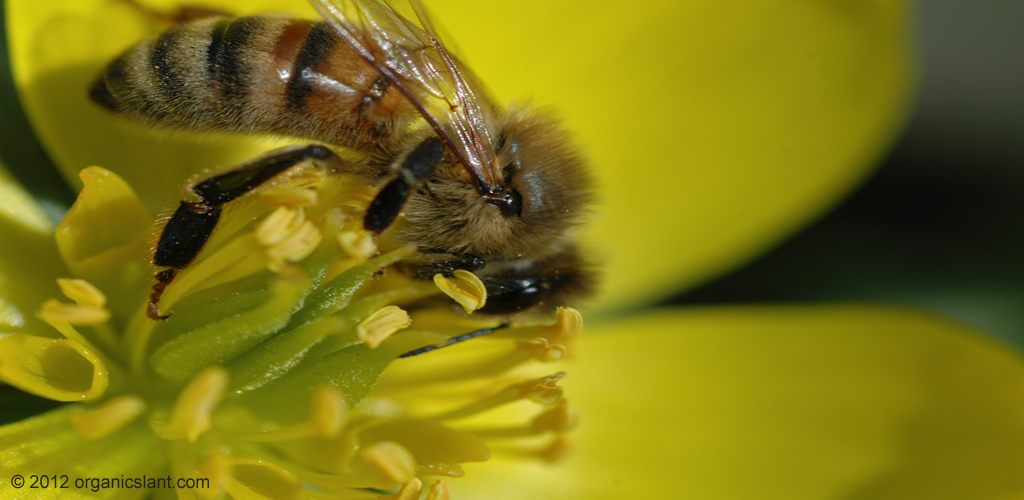 Bee pollen can be described as one of the most nutritious foods on the planet. It has been referred to as a "Nature's fountain of youth" because it provides so many health benefits.
Bee pollen is often referred to as nature's most complete food. Human consumption of bee pollen is praised in the Bible, other religious books, and ancient Chinese and Egyptian texts. It has long been prescribed by traditional health practitioners – including the fathers of Western medicine Hippocrates, Pliny the Elder, and Pythagoras – for its healing properties.
Bee pollen is made from plant pollen, a dust sized seed found on the stamen or male reproductive organ, of all flowers. As bees collect nectar from flowers, the pollen sticks to their legs. Bee pollen looks like tiny yellow, tan, orange, and brown balls. The taste can vary depending on what type of plant it comes from. It can be bitter or can have a sweet, nutty flavor.
More than 40 research studies document the therapeutic efficacy and safety of bee pollen. Clinical tests show that orally ingested bee pollen particles are rapidly and easily absorbed–they pass directly from the stomach into the blood stream. Within two hours after ingestion, bee pollen is found in the blood, in cerebral spinal fluids, and in the urine.
Bee pollen rejuvenates your body, stimulates organs and glands, enhancing vitality. Bee pollen's ability to consistently and noticeably increase energy levels makes it a favorite substance among many world class athletes and those interested in sustaining and enhancing quality performance.
Bee pollen contains most of the known nutrients, including all of those necessary for human survival. When compared to any other food, it contains a higher percentage of all necessary nutrients. Bee pollen is approximately 25% complete protein containing at least 18 amino acids. In addition, bee pollen provides more than a dozen vitamins, 28 minerals, 11 enzymes or co-enzymes, 14 beneficial fatty acids, 11 carbohydrates, and is rich in minerals, the full spectrum of vitamins, and hormones. It is low in calories.
Several nutrients in bee pollen, such as proteins, beneficial fats, vitamins B, C, D, E, and beta-carotene, calcium, magnesium, selenium, nucleic acids, lecithin, and cysteine, are scientifically well documented for their ability to strengthen immunity, counteract the effects of radiation and chemical toxins (which are the two most severe stressors to your immune system), and generate optimal health and vitality.
Bee pollen provides anti-oxidants that scavenge free radicals caused by exposure to radiation, chemical pollutants, and other intense physical or emotional stressors. Radiation and chemical pollutants are known as the two most severe stressors to your immune system. According to the Centers for Disease Control and the Environmental Protection Agency, the two premier health monitoring organizations in the world, this year you will be exposed to over 200 different forms of radioactive toxins and over 60,000 different chemical toxins. More radiation has been released into the atmosphere and environment since the March 11th 2011 nuclear meltdown in Fukushima, Japan, as well.
Bee pollen should not be confused with the pollen that is blown by the wind and is a common cause of allergies. Allergy-causing pollen is called anemophiles; it is light and easily blown by the wind. Bee pollen is heavier and stickier – "and is collected off bees' legs" by special devices placed at the entrance to hives. It is called entomophiles or "friends of the insects," and will rarely cause allergy symptoms.
When researchers feed young bees man-made pollen, the baby bees died even though all the known nutrients were present in the synthesized laboratory produced pollen. Though thousands of chemical analyses of bee pollen have been made with the most scientifice diagnostic equipment, studies prove that there are elements present in bee pollen that cannot be identified or duplicated. These unidentifiable elements may be the reason bee pollen works so spectacularly against so many diverse conditions of ill health. The percentage of rejuvenating elements in bee pollen have been shown to correct the deficient or unbalanced nutrition, common in the customs of our present-day civilization of consuming incomplete foods, often with added chemical ingredients, which expose us to many severe physiological problems.
How about with longevity? In a study done in Romania, bee pollen showed significant immune system enhancement. The study found,
"An increase has been recorded in the level of blood lymphocytes, gamma globulins, and proteins in those subjects given pollen in comparison with control groups. The most significant difference occurred in lymphocytes. These results thus signify a strengthening in the resistance of the organic system."
This study was found in the report "Comparative Studies Concerning Biochemical Characteristics of Beebread as Related to the Pollen Preserved in Honey" by Drs. E. Palos, C. Andrei, and Z. Voiculescu.
Anemia: Studies have shown that the ingestion of bee pollen has a positive effect on the composition of blood. A considerable and simultaneous increase of both white and red blood cells was observed in direct proportion to ingestion. When bee pollen is given to anemic patients, their levels of hemoglobin [oxygen-carrying red blood cells] increase considerably.
Anti-bacterial: Researchers have demonstrated that there is a substance in bee pollen that inhibits the development of numerous harmful bacteria. Studies have shown bee pollen contains an antibiotic factor effective against salmonella and some strains of bacteria.
Cholesterol: It is reported that bee pollen in the diet acts to normalize cholesterol and triglyceride levels in the blood. Upon the regular ingestion of bee pollen, a reduction of cholesterol and triglycerides was observed. High-density lipoproteins (HDL) increased, while low-density lipoproteins (LDL) decreased. A normalization of blood serum cholesterol levels was also seen.
Immune System Support: A report from the Agronomic Institute, Faculty of Zootechnics, Romania, showed the immune-strengthening effects of bee pollen. According to the report, "Comparative Studies Concerning Biochemical Characteristics of Beebread as Related to the Pollen Preserved in Honey" by doctors. E. Palos, Z. Voiculescu, and C. Andrei, "An increase has been recorded in the level of blood lymphocytes, gamma globulins, and proteins in those subjects given bee pollen in comparison with control groups. The most significant difference occurred in lymphocytes." Lymphocytes are the white blood cells that are the "soldiers" of the immune system. They are responsible for ridding the body of injurious and harmful substances, including infected or diseased cells, mutant and cancerous cells, viruses, metabolic trash, and so on. Gamma globulin is a protein formed in the blood, and our ability to resist infection is closely related to this protein's activity. "These results thus signify a strengthening in the resistance of the organic immune system," the doctors concluded.
Osteoperosis: The effect of bee pollen on bone density and osteoporosis during the climacteric period of menopause in peri-menopausal women was also studied by Dr. Werner Salomon, a gynecologist in Hamburg, Germany, in an observational study in his practice over a three-year period from 1989-1993. After the period of observation, Dr. Salomon found that administration of bee pollen to peri-menopausal women not only blocked the beginnings of osteoporosis but also produced a significant increase in bone density.
DID YOU KNOW…
Potentiated pollen is much more digestable than normal store bought bee pollen. Potentiation ruptures the pollen cell wall and allows your digestive juices to absorb all of the nutrients in the pollen.
Bee Pollen Potentiation Process
In a nutshell, potentiated basically means to smash open so as to make more nutrients in the bee pollen more available for assimilation. It's opened like a nut, if you will. This is difficult for bee pollen granules are very small.
The difference between one bee pollen supplement and one that is potentiated is significant. Due to the potentiated process, as much as 80 to 85 percent of the full health benefits of bee pollen are released.
By using potentiated bee pollen, you release almost the full benefits of the supplement. A whopping 95 percent of bee pollen's nutritional factors are lost due to it not being properly freeze dried and not potentiated!
| | | |
| --- | --- | --- |
| Nutrition Information | per serving(4 capsules) | per 100g |
| Energy | 20.9kj | 1045kj |
| Protein | 0.46g | 23.7g |
| Carbohydrates | 0.54g | 27.0g |
| Vitamin A | 16µg | 800µg |
| Vitamin B1 | 0.0188mg | 0.94mg |
| Riboflavin B2 | 0.0372mg | 1.86mg |
| Vitamin C | 0.3mg | 15.7mg |
| Folate | 10.4µg | 520µg |
| Fat (Lipids) | 0.1g | 4.8g |
| Niacin | 0.3mg | 15.7mg |
| Iron | 0.28mg | 14.0mg |
| Zinc | 0.156mg | 7.8mg |
| Calcium | 4.5mg | 225mg |
| Magnesium | 0.20mg | 10.0mg |
Specific Side Effects of Bee Pollen
So, what are the bee pollen side effects we need to be aware of? What are the guidelines you need to know about this nutritional supplement? You should know that there is potential for serious reactions as at least 5% of Americans are allergic to ragweed pollen.
In turn, bee pollen has pollen from ragweed or plants that cross-react with ragweed, like chrysanthemums, dandelions, and sunflowers.
Some side effects are allergic reactions like itchy throat, wheezing, coughing, hives, and skin flushing.
All these are characteristic responses of bee product. If any of these responses happen to you upon taking bee pollen, discontinue its usage immediately and consult your doctor. It is wise to see your doctor before starting any new supplement regime and we advise accordingly.
Err on the side of caution — that is a key point we want to make on this bee pollen side effect. Severe allergic responses are also possible including anaphylactic shock.
This can be fatal. Anaphylactic or anaphylaxis is characterized as a vehement response to a drug, food, or supplement causing convulsions, breathing problems, and unconsciousness. If you question the purity of your bee pollen, start taking it in small dosages and then work up from there.
If you notice nothing, you're probably not allergic to it — the vast majority of people aren't. If you have asthma or an allergy to bee stings, consult with your doctor first. If you're allergic to bee stings, chances are you would have a reaction to the bee pollen. Be especially aware of your physical responses when taking any new supplement. Bee pollen is no exception. Pregnant and lactating women should consult with their doctor about taking bee pollen supplements, even if they've been taking it previously. Children should be given very small doses to see if any unwanted physical allergic responses occur.
Final Word:
While these guidelines are effective and important, the vast majority of people have no adverse reactions to bee pollen or bee products. Nevertheless, if in doubt, consult with your doctor.
If under medical supervision or pregnant please consult with a physician before use.