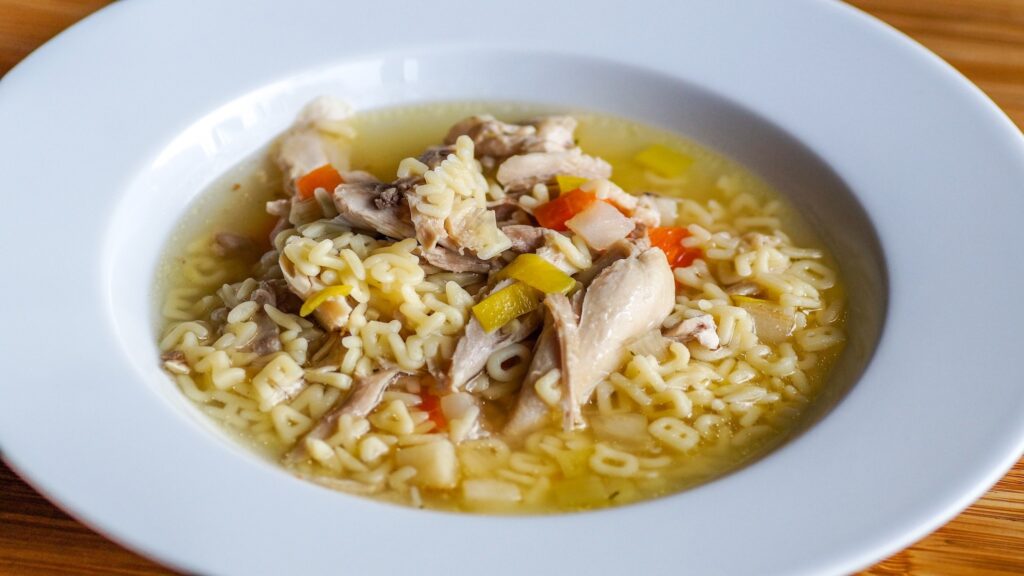 Chicken soup may contain a number of substances with beneficial medicinal activity including an anti-inflammatory mechanism that could ease the symptoms of upper respiratory tract infections, according to a new study.
The study was reported in the October issue of CHEST, the peer-reviewed journal of the American College of Chest Physicians.
The suspected benefits of chicken soup were reported centuries ago. The Egyptian Jewish physician and philosopher, Moshe ben Maimonides , recommended chicken soup for respiratory tract symptoms in his writings back in the 12th century which were, in turn, based on earlier Greek writings. However, there's little in the literature to explain the pathophysiology of such benefits.
Colds are often the result of transient infections of the mucosa of the upper respiratory tract from a variety of viruses. While incompletely understood, the viral infection leads to the stimulation of a cytokine cascade. Cytokines are soluble proteins secreted by various cell types and involved in cell-to-cell communication, coordinating antibody and T-cell immune interactions, and amplifying immune reactivity. Many, if not most, symptoms related to colds are likely the result of the inflammatory response initiated by the cytokine cascade.
Colds are also associated with the generation of neutrophil chemotactic activities that relate to a cell's tendency to migrate toward or away from certain chemical stimuli. Neutrophils are the circulating white blood cells essential for the processes by which bacteria, cellular debris, and solid particles are removed and destroyed. Since neutrophil products are potent stimulators of mucous release, this may be one mechanism by which colds commonly lead to cough and sputum from infection.
Researchers from the Pulmonary and Critical Care Medicine Section of the Nebraska Medical Center in Omaha, Nebraska initiated a study to evaluate the possibility that chicken soup may be a factor in attentuating the inflammatory response associated with colds. They set out to determine the ability of chicken soup to inhibit neutrophil chemotaxis in response to standard chemotactic stimuli.
The recipe they used was called "Grandma's soup," which not only included chicken, but also onions, sweet potato, parsnips, turnips, carrots, celery stems, and parsley, with the addition of salt and pepper. Many tests were conducted on the soup. For example, to determine which components of the soup contained neutrophil inhibitor activity, samples of chicken and a portion of each of the vegetables were boiled for one hour. The broths then were harvested, frozen, and saved for assay. For comparison purposes, commercially available soups were obtained from a local supermarket and prepared according to the directions on the label.
Stephen Rennard, M.D., FCCP, said the results of the study demonstrate that chicken soup inhibits neutrophil migration to standard stimuli. The inhibitory effect was observed clearly at concentrations without cytotoxicity. Dr. Rennard said: "A variety of soup preparations was evaluated and found to be variably, but generally, able to inhibit neutrophil chemotaxis. The current study, therefore, presents evidence that chicken soup might have an anti-inflammatory activity, namely the inhibition of neutrophil migration."
Researchers noted that the soup used for the majority of experiments, "Grandma's soup," has several unusual features. For one, it contains strained vegetables. Dr. Rennard noted, however, that the inhibitory activity was observed with several other recipes that lack the particles from vegetables. "Thus," he said, "while the identity of the biologically active materials is unknown, it seems likely they are water-soluble or extractable. Pureed carrots or other vegetables are not recommended as a remedy while chicken soup is."
Dr. Rennard also pointed out that this was a laboratory experiment, an in vitro study as opposed to an in vivo clinical study involving human patients. He said: "It was a well-controlled study and used well-established in vitro methods to provide limited evidence that chicken soup could have an anti-inflammatory activity. Since many of the symptoms that follow upper respiratory tract viral infections may well be due to the inflammatory response, the current study may have clinical relevance."