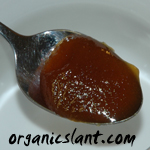 (Organic Slant) Manuka honey is a broad-spectrum antimicrobial agent that is gaining acceptance in the topical treatment of wounds.
For thousands of years honey has been known for its special properties. Certain honeys from specific plants have a greater range of properties than others, and the honey that comes from some strains of the New Zealand Manuka bush (Leptospermum Scoparium) is one of these.
All kinds of honey contain antibacterial components, however these components are elevated in Manuka honey. This honey has the ability to reduce the risk of certain infections that are otherwise life-threatening. The fact that this substance can treat large scale infections makes Manuka honey one of a kind.
The major antibacterial component in manuka honey is methylglyoxal (MG). MG is a compound found in most types of honey, but usually only in small quantities.
In manuka honey, MG comes from the conversion of another compound — dihydroxyacetone — that is found in high concentration in the nectar of manuka flowers. MG is thought to give manuka honey its antibacterial power. The higher the concentration of MG, the stronger the antibiotic effect.
Although honey has been used as a traditional remedy for burns and wounds, the potential for its inclusion in mainstream medical care is not well recognized.
Many studies have demonstrated that honey has antibacterial activity in vitro, and a small number of clinical case studies have shown that application of honey to severely infected cutaneous wounds is capable of clearing infection from the wound and improving tissue healing.
The physicochemical properties (eg, osmotic effects and pH) of honey also aid in its antibacterial actions. Research has also indicated that honey may possess antiinflammatory activity and stimulate immune responses within a wound. The overall effect is to reduce infection and to enhance wound healing in burns, ulcers, and other cutaneous wounds. It is also known that honeys derived from particular floral sources in Australia and New Zealand (Leptospermum spp) have enhanced antibacterial activity, and these honeys have been approved for marketing as therapeutic honeys (Medihoney and Active Manuka honey).
Honey has a complex chemistry, and its broad-spectrum antimicrobial activity varies with floral source, climate, and harvesting conditions. Methylglyoxal was identified as the dominant antibacterial component of manuka honey. Although it has been known that methylglyoxal has antibacterial activity against gram-positive bacteria, including methicillin-resistant Staphylococcus aureus and vancomycin-resistant Enterococcus, there is not much information describing its activity against gram-negative bacteria.
THE FOLLOWING ARE PUBLISHED, PEER REVIEWED RESEARCH PAPERS. THESE AFFIRM:
The correlation between Non Peroxide Activity and the chemical marker methylglyoxal
There is more to Non-Peroxide Activity than one simple chemical
The components of Non-Peroxide Activity are synergistic and should not be isolated
Natural Manuka Honey safe to use
Methylglyoxal only partially responsible
UMF® ACTIVE HONEY
Unique Manuka Factor is the name given to the form of antibacterial activity found in some manuka honeys which was discovered by Dr. Peter Molan at Waikato University's Honey Research Unit. This activity is distinct from the peroxide activity found in regular honeys.
HOW IS THE UMF ACTIVITY TESTED?
The hydrogen peroxide activity of the honey is neutralized with the addition of catalase. The antimicrobial activity of the honey against Staphylococcus aureus is then tested and compared to a known antiseptic agent – phenol. The test protocol was developed by Dr. Molan and there is now only one laboratory in New Zealand accredited to perform this test.
WHAT DOES THE NUMBER MEAN?
The number after the letters UMF represents the level of antibacterial activity of the honey against Staphylococcus aureus as a percentage phenol concentration i.e. UMF 18+ has an antibacterial activity better than a 18% phenol solution.
There are only 40+ companies licensed by the UMF (Unique Manuka Factor). If your Manuka is not on this list of 43 UMF honeys, well..not saying you have a fake product, but you are now outside of the official ratings and monitoring system of the UMF Honey Association, which means you are basically buying at your own risk and taking their word for the rating that they give their honey.
East Cape Manuka Honey is collected from hives located in Maori tribal lands on the East Cape of New Zealand's North Island. This region has the largest concentration of manuka trees in New Zealand, and it has been recognized as the top source of UMF active honey. The East Cape is known for its bush covered hills, fast flowing streams and rugged, unspoiled coastline. The land is free of agricultural chemicals and other modern day pollutants.
East Cape is only one of three or so Licensed Manuka Honeys found on Amazon. What made me recommend this one over the other two is that there seems to be additional testing to insure the UMF rating AFTER the honey gets to the USA. When you open the well packaged box, you will see a slip of paper from Hill Labs in New Zealand, with the lab test results for East Cape Manuka.